Amateur Radio's original and longest running video program is back with another fun episode.
AmateurLogic 114: What's New with Martin Jue, K5FLU plus lots more.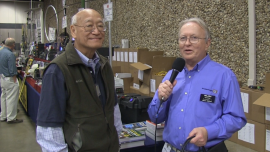 Peter's infrared experiments part 2. Tommy's Active Antenna. Emile's HF Loop part 1. George at the Capital City Hamfest with Martin Jue(MFJ) and Will Jourdain(Icom).
1:23:13
AmateurLogic 114: What's New with Martin Jue, K5FLU
Source: QRZ News
Link: AmateurLogic 114: What's New with Martin Jue, K5FLU